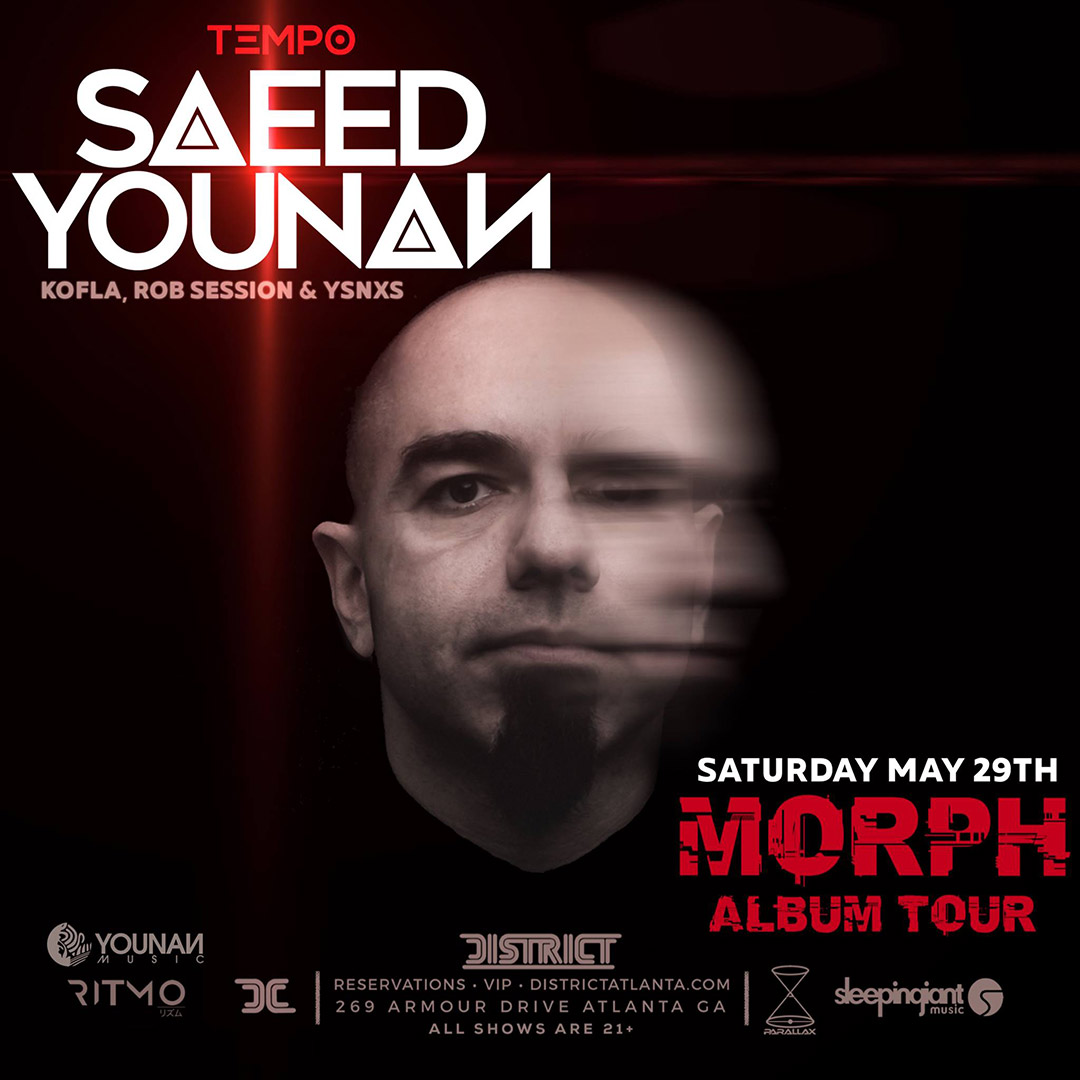 Saeed Younan with Rob Sessions, YSNXS & Kofla at District Atlanta

Date: Saturday, May 29th, 2021
Hours: 10pm - 3am
Ticket Price: $15-50 Age Requirement: 21 & Up!
Dress Code: Casual
21+ Welcome. ALL TICKET SALES ARE FINAL. No refunds or exchanges. *Prices do not reflect door pricing**

Don't miss this opportunity to catch Saeed Younan with Rob Sessions, YSNXS & Kofla at this exclusive Atlanta performance! Tickets for this event will sell out! Get yours now! Initial release tickets are available starting at just $15!
Pre-sale TicketsAddress / Details
Conveniently located off Armour Dr. is the Atlanta warehouse district by MARTA Headquarters
District is a stunning converted warehouse tucked back in the up and coming warehouse district by Sweetwater Brewery. With a wrap around 360 degree balcony, up close and personal DJ booth, Massive D&B sound system, and North America's only Orbis-Fly LED Ceiling, this is the next level of Atlanta venues.
District Nightclub
269 Armour Dr NE
Atlanta, GA 30324
District with My Favorite Sin presents Saeed Younan with Rob Sessions, YSNXS & Kofla in Atlanta Saturday, May 29th, 2021 at District Atlanta

A world class globe-trotting DJ, a recording artist, a sought-after remix producer, and head of his own record label, Saeed Younan has excelled as a true artist in the global dance scene. Without showing complacency, Saeed Younan does not cease to amaze, always looking to astound.



As a DJ, Saeed's performances are renowned for his technical abilities and precision. He effortlessly weaves and morphs tracks together into a seamless blend of house, techhouse, and tribal, enhancing his music into a warm and sexy vibe. All the while building momentum by allowing the music to ebb and swell.



In testimony to his worldwide appeal, Younan was nominated one of America's Top 100 DJ's, entering America's Best DJ Poll 4 years in a row. (DJ Times Magazine). Younan was also nominated for Best Breakthrough DJ at the 2003 Dance Star Awards USA. These milestone events gave him the global recognition and provided the opportunity to push his sound further, and while doing so, he's captivating audiences worldwide. Saeed Younan has headlined at prominent clubs across the globe in exotic locations such as Ibiza, Portugal, Israel, Tokyo, Greece, Brazil, Argentina, Mexico, Canada, Hong Kong, Egypt, Russia, Morocco, with the list going on and on.