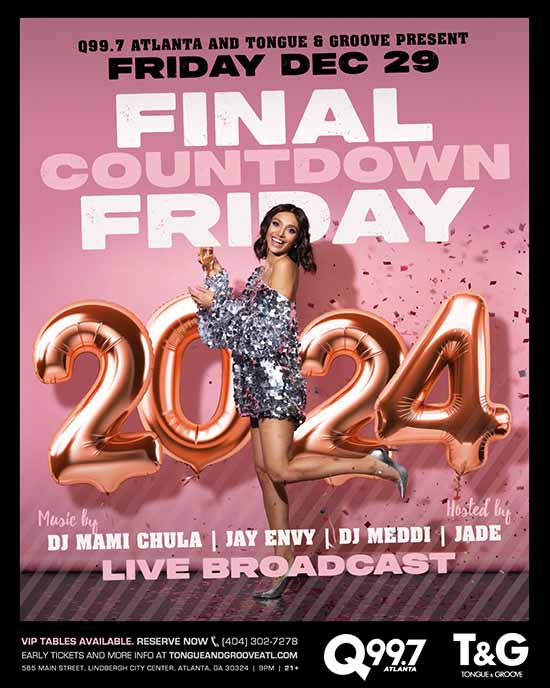 Fridays at Tongue & Groove

Date: Every Friday Night in Buckhead
Hours: 10pm - 3am
Ticket Price: $15-50 Age Requirement: 21 & Up!
Dress Code: Casual
21+ Welcome. ALL TICKET SALES ARE FINAL. No refunds or exchanges. *Prices do not reflect door pricing**

Don't miss this opportunity to catch Fridays at this exclusive Atlanta performance! Tickets for this event will sell out! Get yours now! Initial release tickets are available starting at just $15!
Guestlist Inquiries Address / Details
Conveniently located near MARTA in Lindbergh City Center!
The new location of Tongue & Groove is in lower Buckhead near Midtown Atlanta right on Main Street in Lindbergh City Center less than a block from MARTA. It's convenient to the entire city and well worth the drive from outside of the perimeter.
Tongue & Groove Nightclub


565 Main Street
Atlanta, GA 30324
(Lindbergh City Center)

Hours: 9pm - 3am
Cover Charge: $10 - $15
Age Requirement: 21+ Only
Dress Code: Dress to Impress. No baggy t-shirts or jeans, no sneakers, no jerseys.
Bottle Service is available.

T & G with My Favorite Sin presents Fridays in Atlanta Every Friday Night in Buckhead at Tongue & Groove

Tongue & Groove is an Atlanta legend and their Trademark Friday Nights have been one of the most popular club events in the city for over a decade. Now, Tongue & Groove is in a new location in Lindbergh City Center and the club is absolutely stunning. If you are looking for the best Friday Night event in the metro at the classiest upscale venue in town, Industry Fridays at Tongue & Groove is at the end of your search.



Tongue & Groove has been an Atlanta Nightlife staple since the golden era of Buckhead clubbing. They were the last hold-out when the Buckhead nightclub block was bulldozed to make room for new high-rises and have now made a new home in a beautiful building that once housed Lotus Lounge. Tongue & Groove Free Guestlist Form. Don't Pay Cover! Getting on the guestlist for Tongue & Groove is quick, free and easy! Click on the link below and you will be directed to the guestlist form. Doors open at 9pm EST. Free guestlist closes at 11:30pm EST. *A valid email address is required.



Signup for this guestlist ends at 8:30pm EST on the night of the event. Guestlist is good till 11:30pm! After a complete overhaul of the already breathtaking interior, the new Tongue & Groove has firmly taken it's place as one of Atlanta's hottest upscale venues. Every VIP Table is uniquely decorated with attention paid to every detail and that same care has been put into every aspect of the nightclub's design.